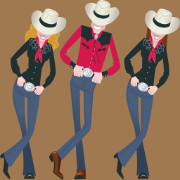 "Ladies & Gent's" – Come on out and join The "Down River Dancers" for a FUN & FRIENDLY Community Line Dance Class! NO Experience is neccessary!
Come and… Have Fun; Fitness; Friendship; Stress Relief; Cardio Workout; Enjoy Music; Learn Lot's of Dances!
Held every Friday morning from 9:30 am to 11:00 am at the Howard Hall, Howard Colorado. Everyone is welcome!
Did you know that…  Line Dancing was started by women standing in line waiting to use the bathroom!